Copy/Play was an ambitious show with the aim to create a safe space for us to be whole human beings - shadows and all.
The show had four main zones: Nudes, memes, Pleasure Pieces and a forest of creatures.
The show also consisted of a performance and a video installation (

Yes, all over my face daddy, 2021

).
With this immersive experience, I wanted to allow light and shadow to co-exist, I wanted to work with embracing both - in ourselves and in the world that surrounds us.
To achieve the set goal I had several different tactics. I used ceramic creatures to invoke joy and wonder, to allow playfulness and to access emotions and allow joy. I juxtaposed the light and playful with darker work, such as the nude section and the pieces talking about the demonisation of female sexuality. 
My artistic practice centers around shadow work and community service so I wanted to open up a space to let go of grievances. I did this with the Surrender piece, described in detail below. 
Jeg bruger sanseligheden som et instrument der direkte kan etablere kontakt til et indre følelseshav - nogle værker er agressive i deres stikken, mens andre inviterer til leg, glæde og løssluppenhed. Du må til tider kante dig rundt mellem værkerne, eksistere i spejlingerne - du er i centrum og du møder dig selv.
Sanseligheden findes også i de materialer jeg arbejder med: fra bronze, til keramik, over spejlbesat beton, embellishment og tekstiler. Sammen skaber de en totalinstallation som den besøgende kan vandre rundt i - som en frossen, fortryllet stillestående skov. Jeg inviterer ind i et immersivt sanse- oplevelses- og følelsesrum hvor det barnagtigt legende og den dybe sorg kan opleves i samme nu.
Dernæst vil jeg invitere til reflektion over hvordan vi navigerer i vores "nye" digitale virkelighed. Det gør jeg med et kurateret udvalg af memes, nudes og DMs som jeg har samlet ind til udstillingen. Memes er interessante, fordi de afspejler skyggesider i vores kultur og samtidig kan skabe et 'safe space' hvor det er okay aldrig at forlade sin seng, at lide af social angst og tømme køleskabet kl. 03 om natten. Nudes er interessante fordi de blotlægger vores seksualitet, vores liderlighed, vores blik på os selv og hinanden. Jeg er interesseret i hvad vi får ud af at tage og sende nudes. Handler det om selviscenesættelse? Om et adrenalin kick? Om seksualitet eller magt? Jeg har indsamlet nudes fra mit community og bedt senderne om et 'nude manifesto' der forklarer deres bevæggrunde.
Endelig vil jeg have fokus på formidling af mit værk Pseudo (en 366 siders grafisk roman om online dating) - bl.a. gennem en artist talk styret af Basements leder Mie Behrmann Jensen og gennem en performativ læsning af Pseudo akkompagneret af et ambient lydunivers skabt af musiker Anders Remark.
See the stories on instagram here.
Listen to an episode of shadow work podcast about the show with Lars Kramhøft here.
The wooden sculptures are by Sini Salminen (Things I Imagined) who was kind enough to let me use her work for the exhibition.
The show was funded by Kulturministeriet and helped realised by the venue - Basement and Thomas Taxvig.
Pictures by the talented Morten Møller from 35mm.dk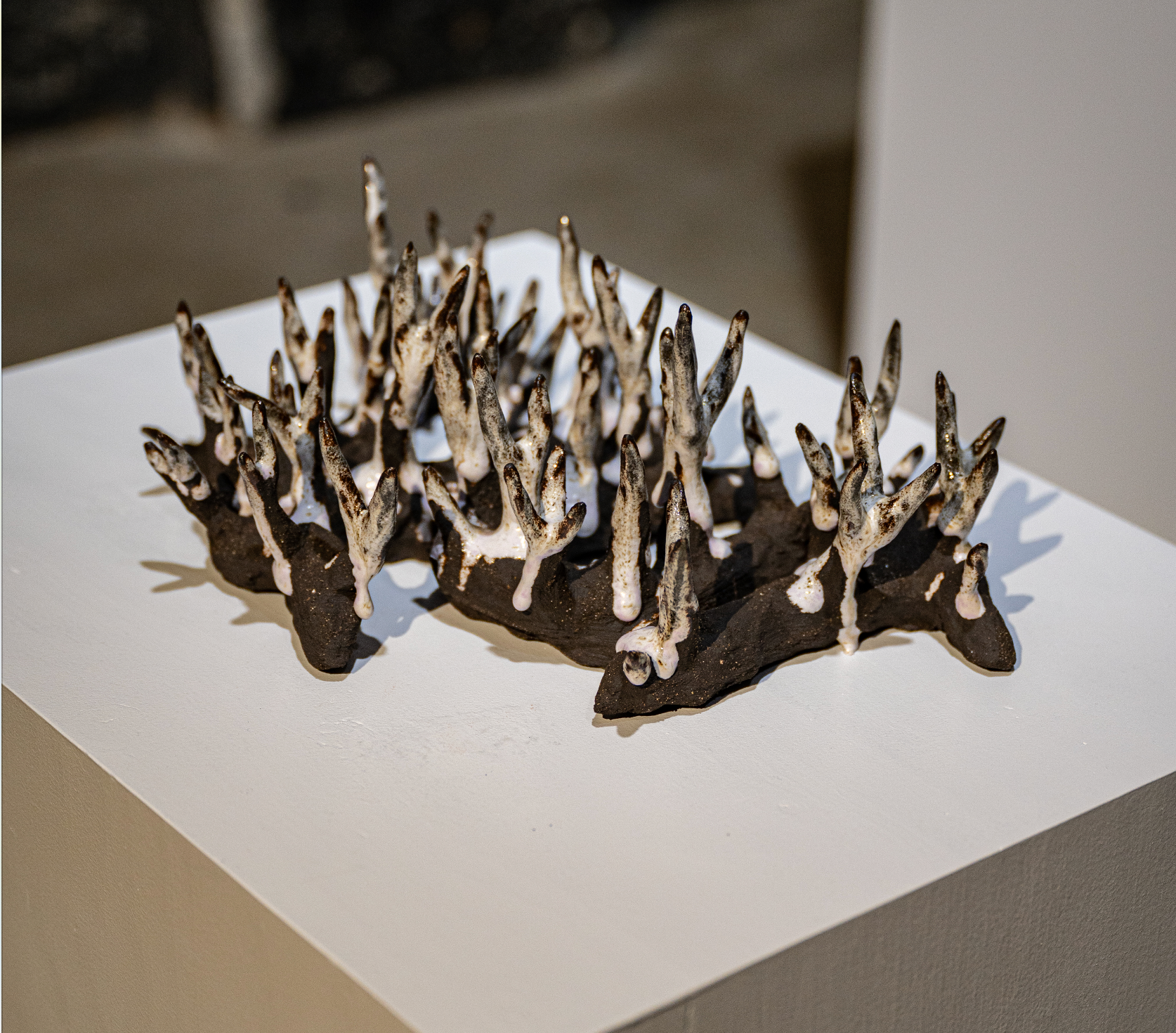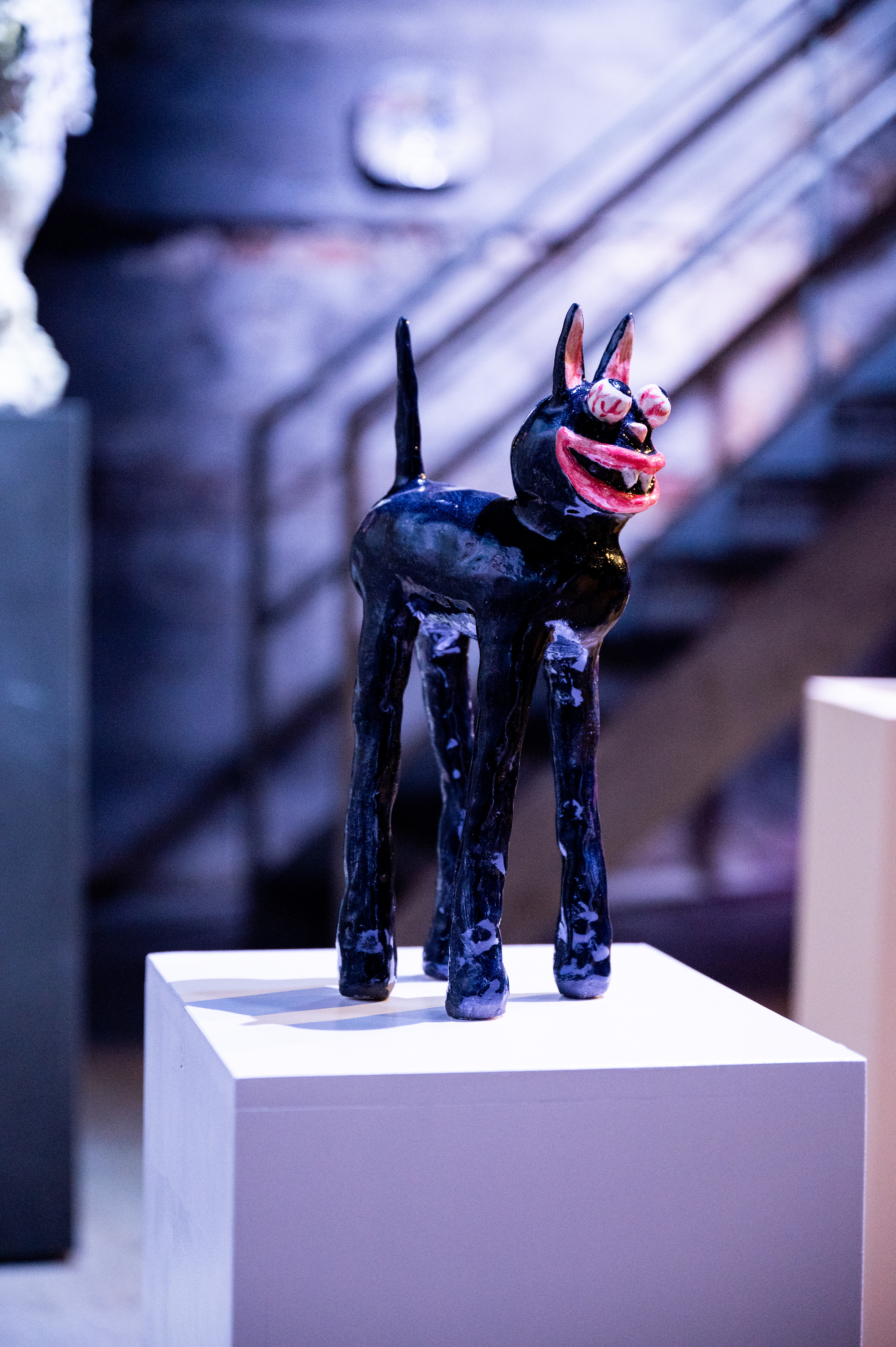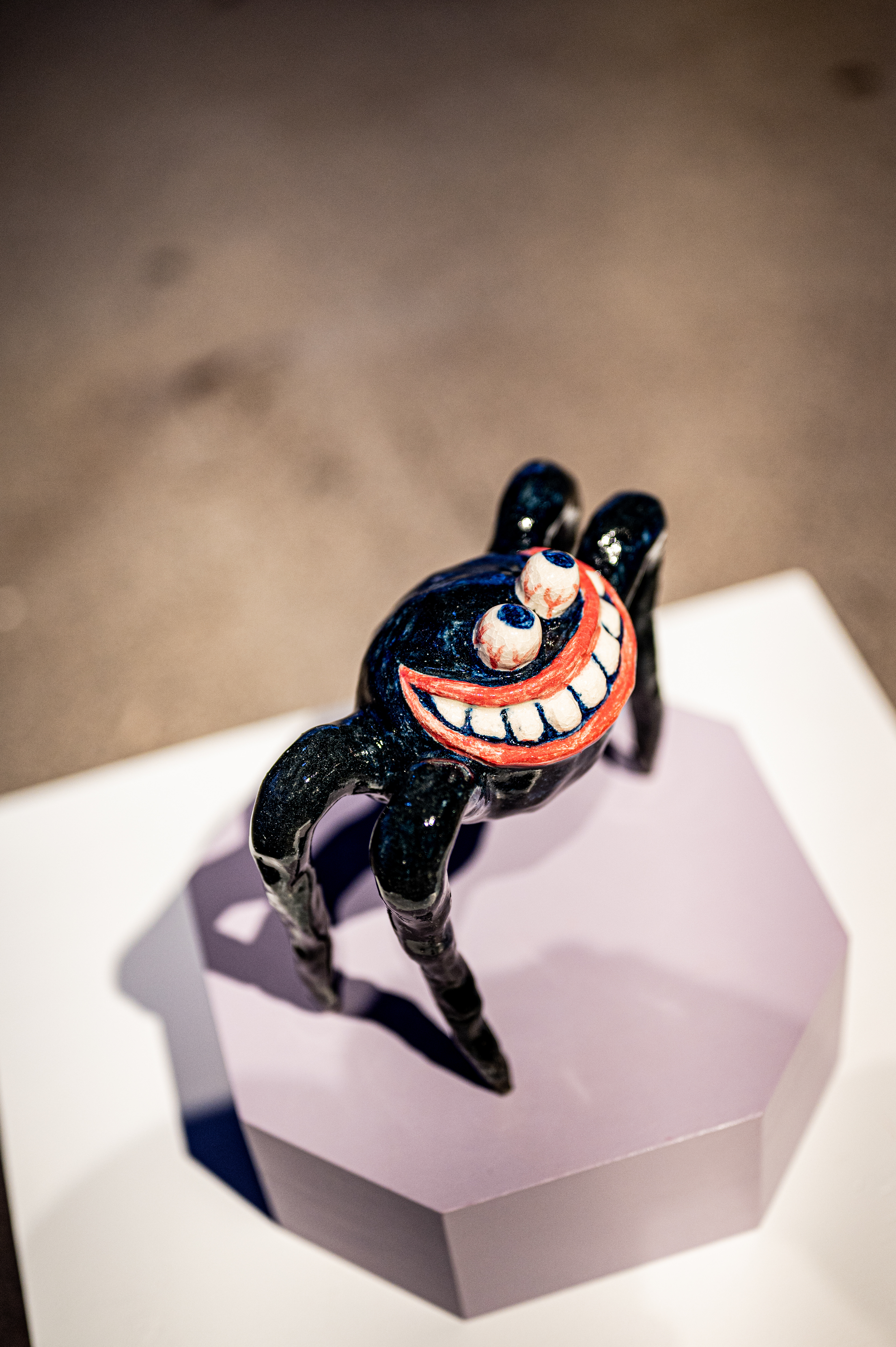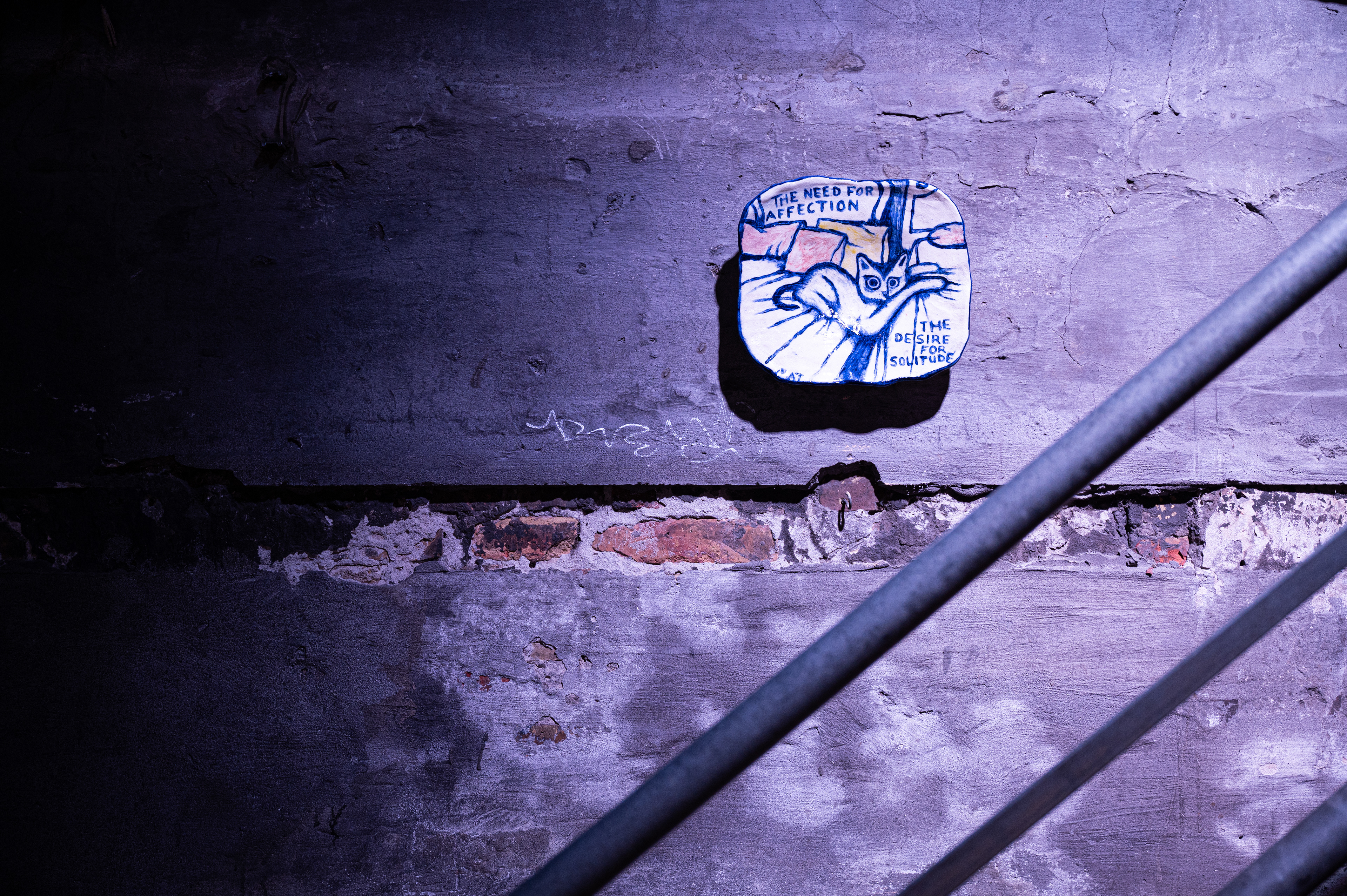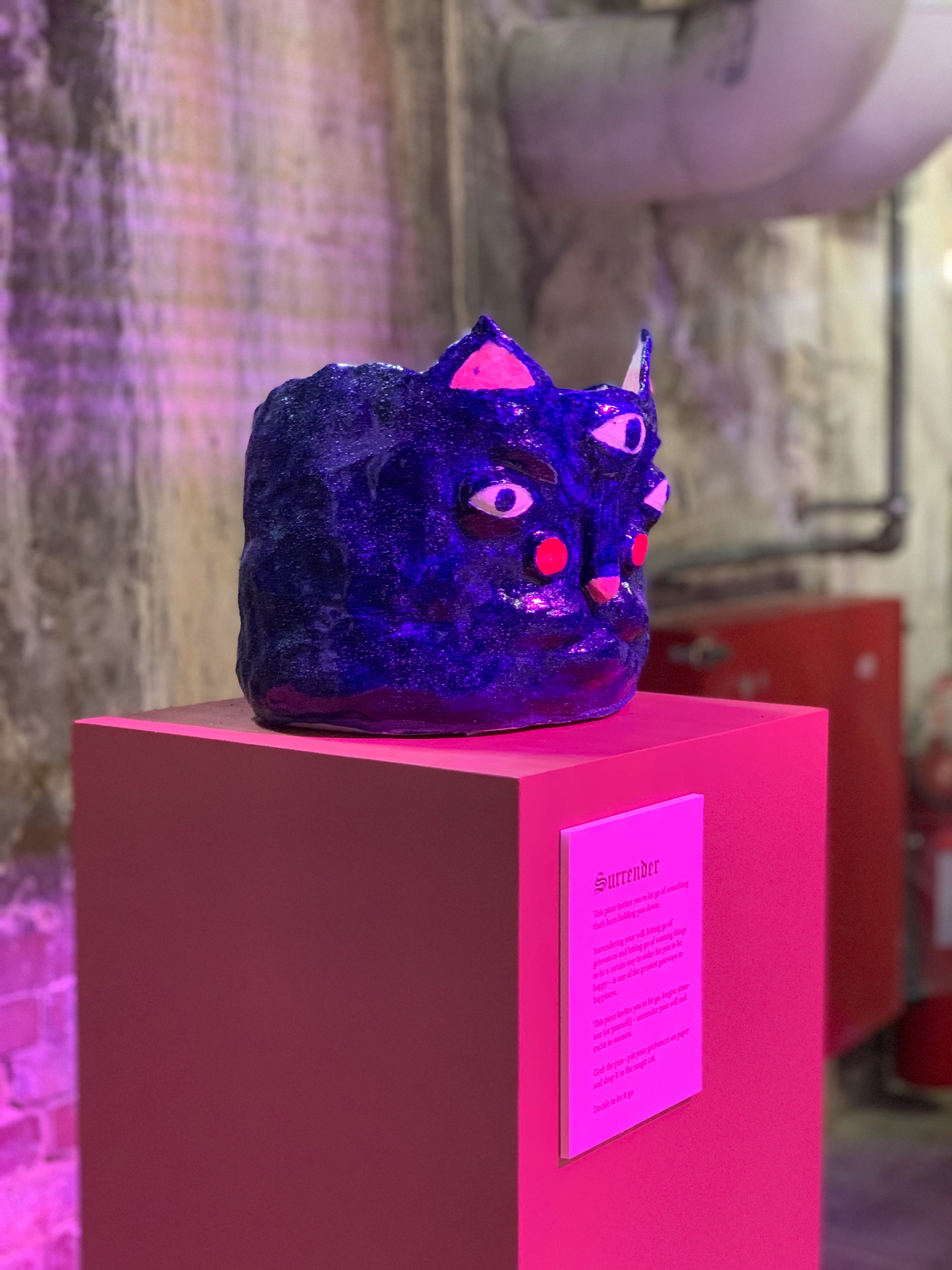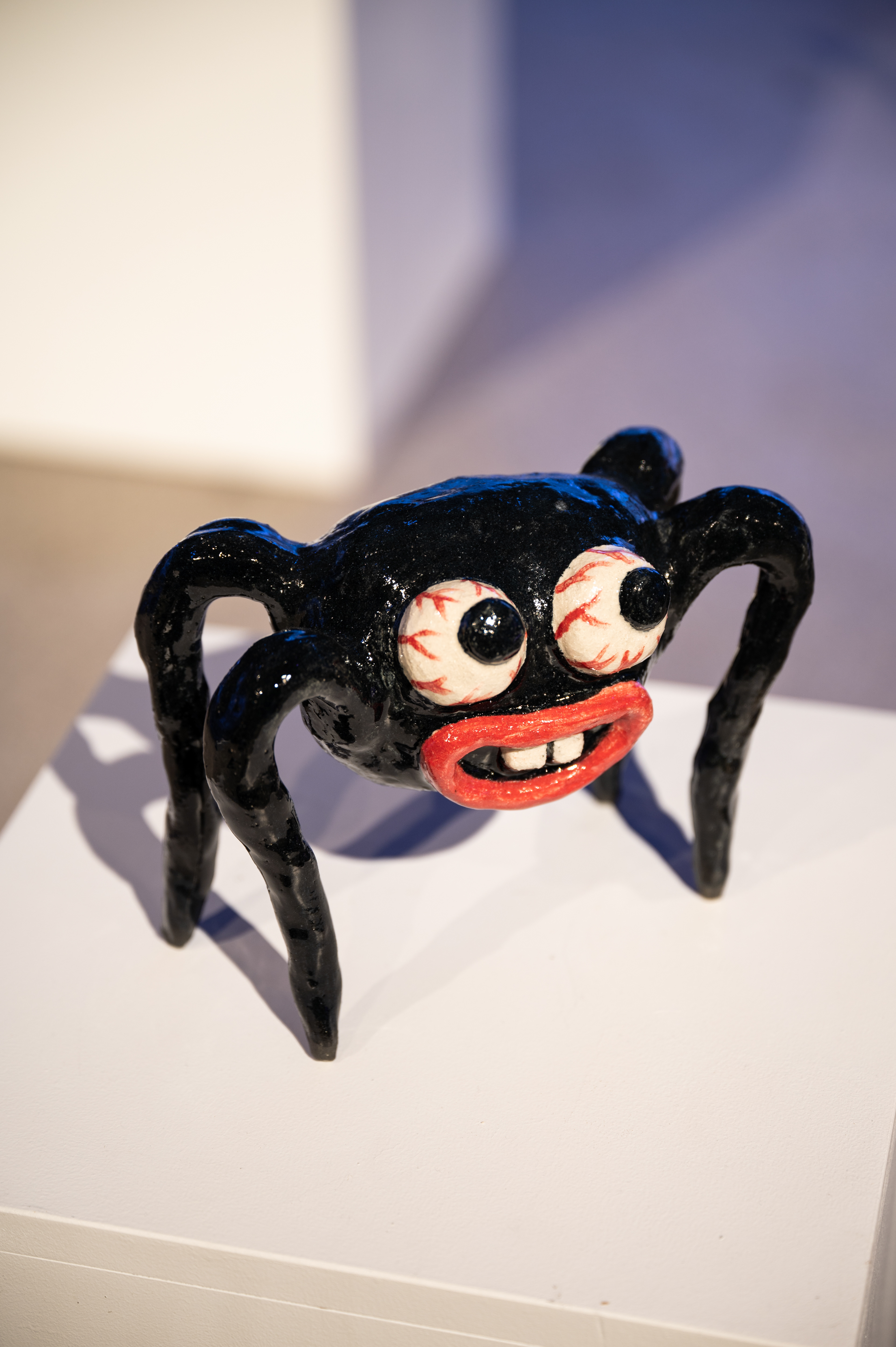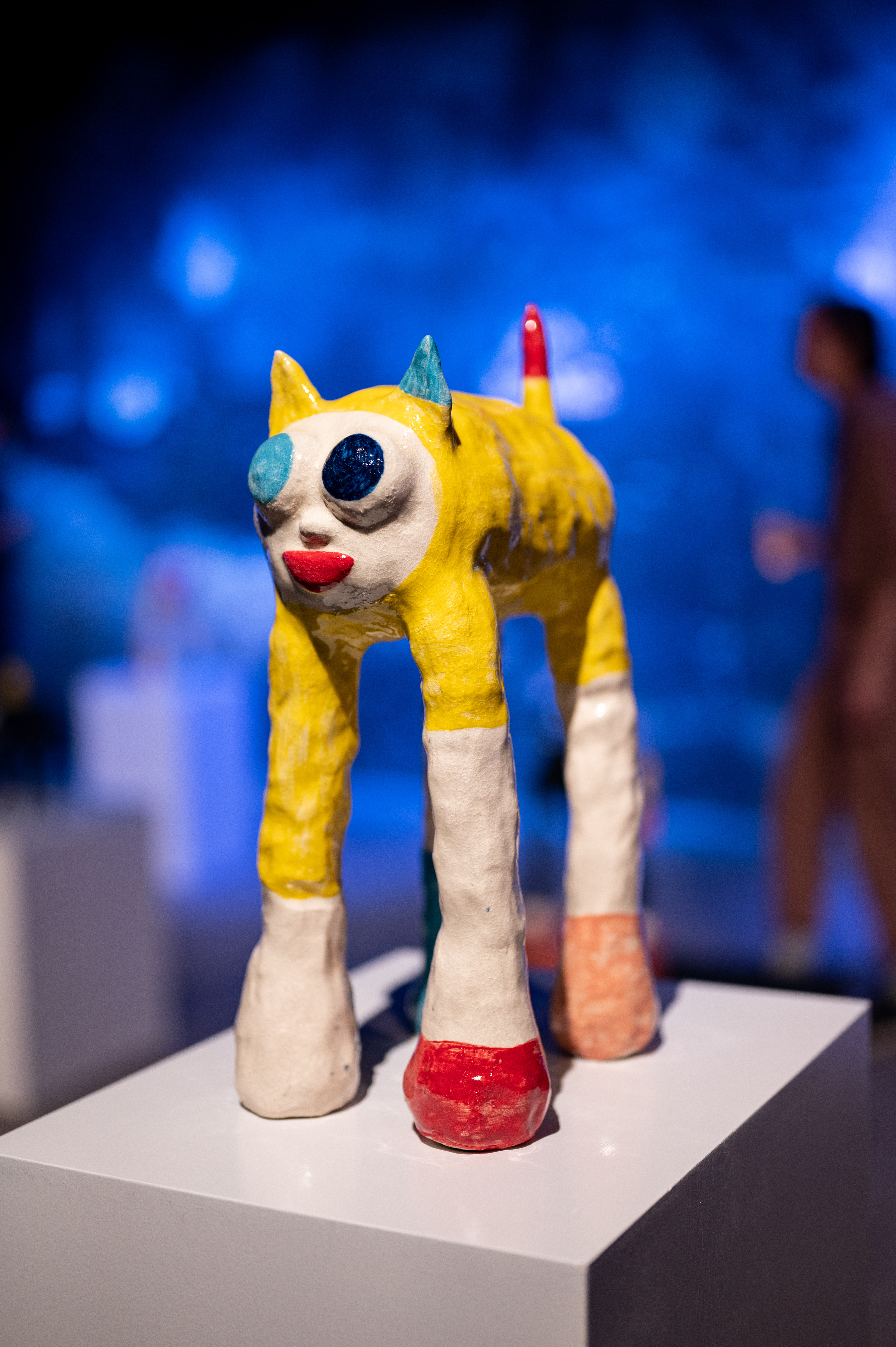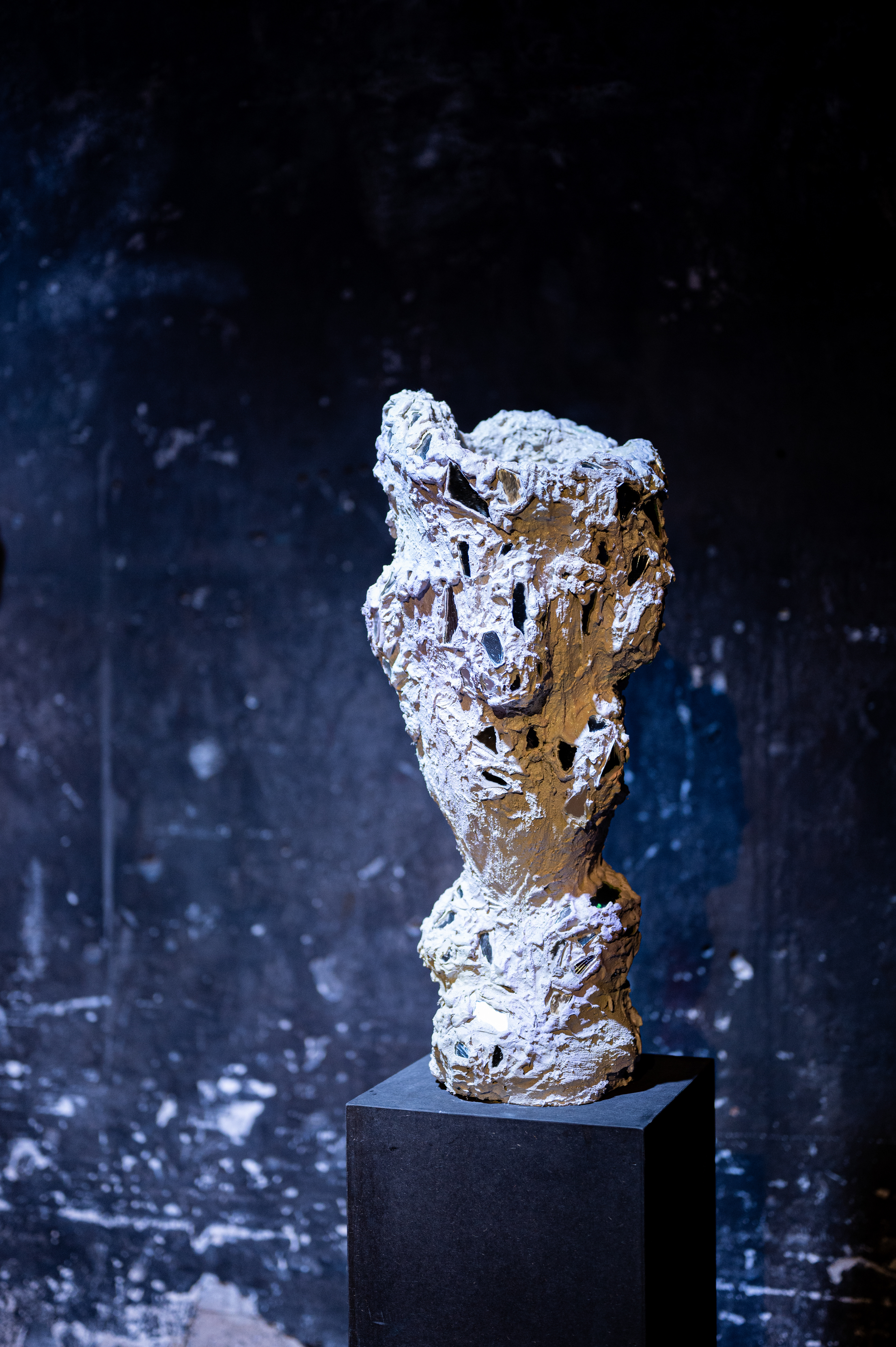 With the "Send Nudes" project I've been diving into the phenomenon of nudes, asking my peers to send nudes and to tell me why they love sending them.
The idea for this project came to me in 2018 when a survey found that teenage girls – when asked what they'd do online if their parents weren't watching – most commonly replied: Post more nudes on instagram.
This made me curious to know how other people feel about nudes, so I asked them.
In this selection you can read their different "Nude Manifestos" and get an insight into how we can navigate online dating culture while staying whole human beings.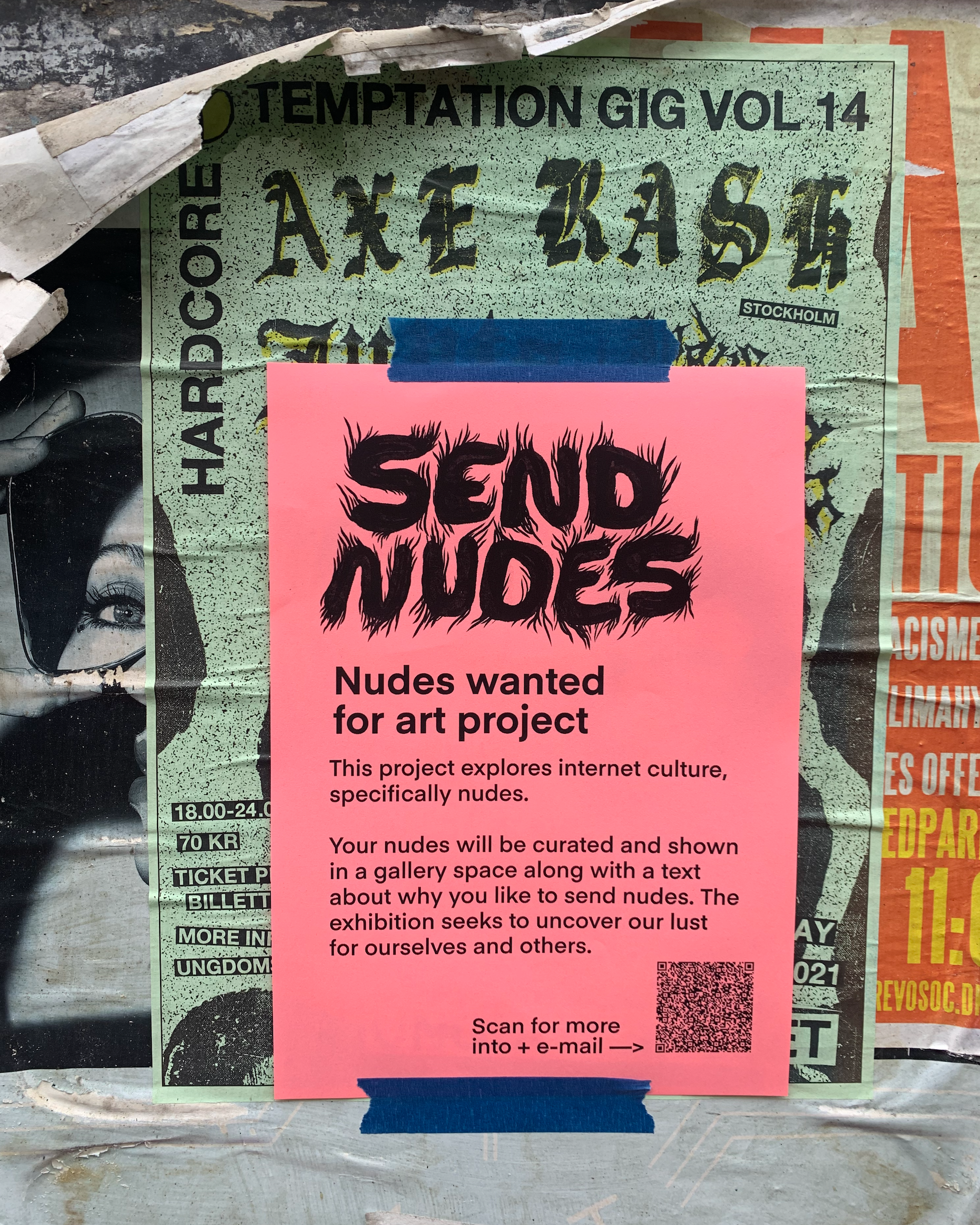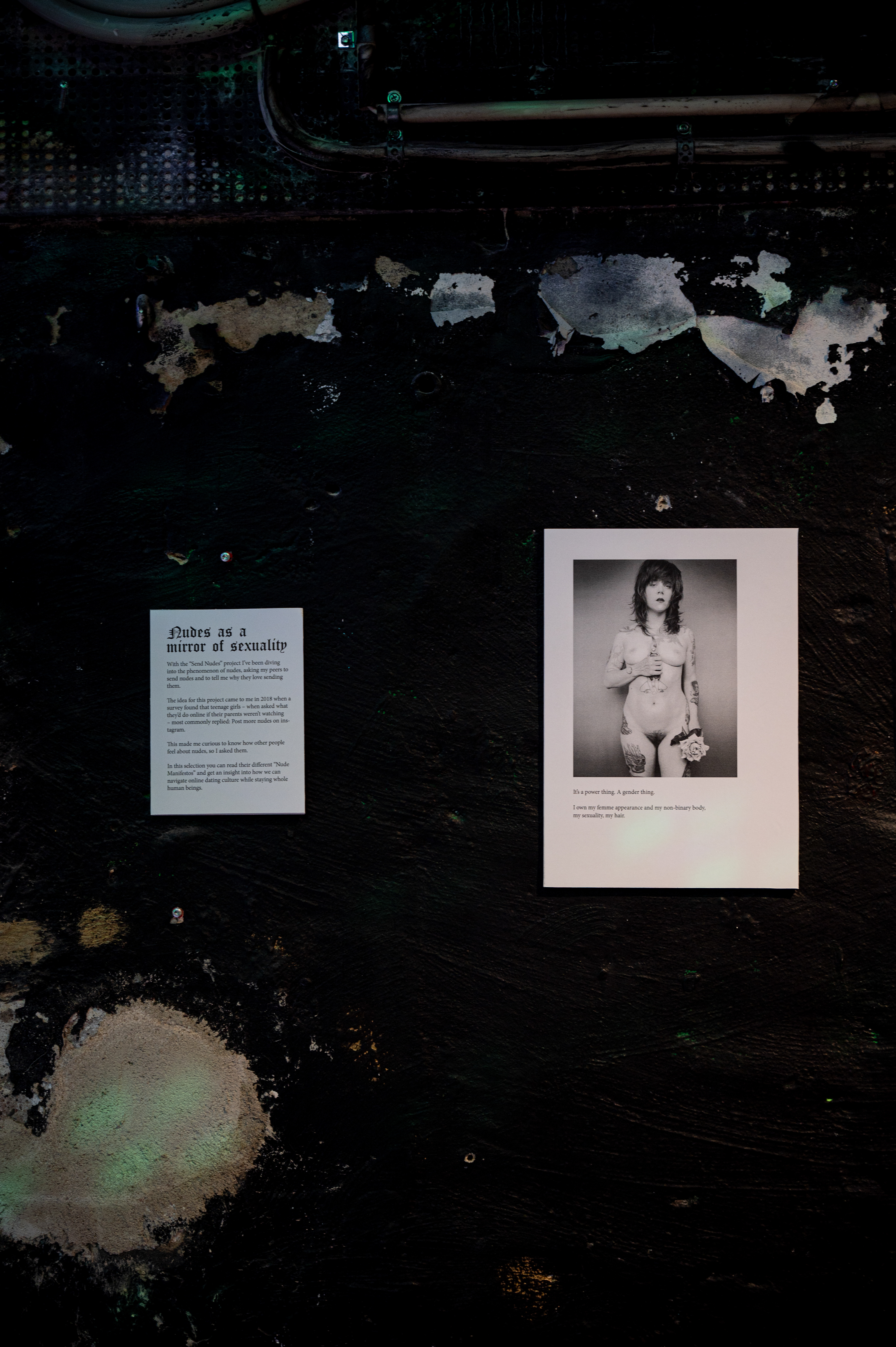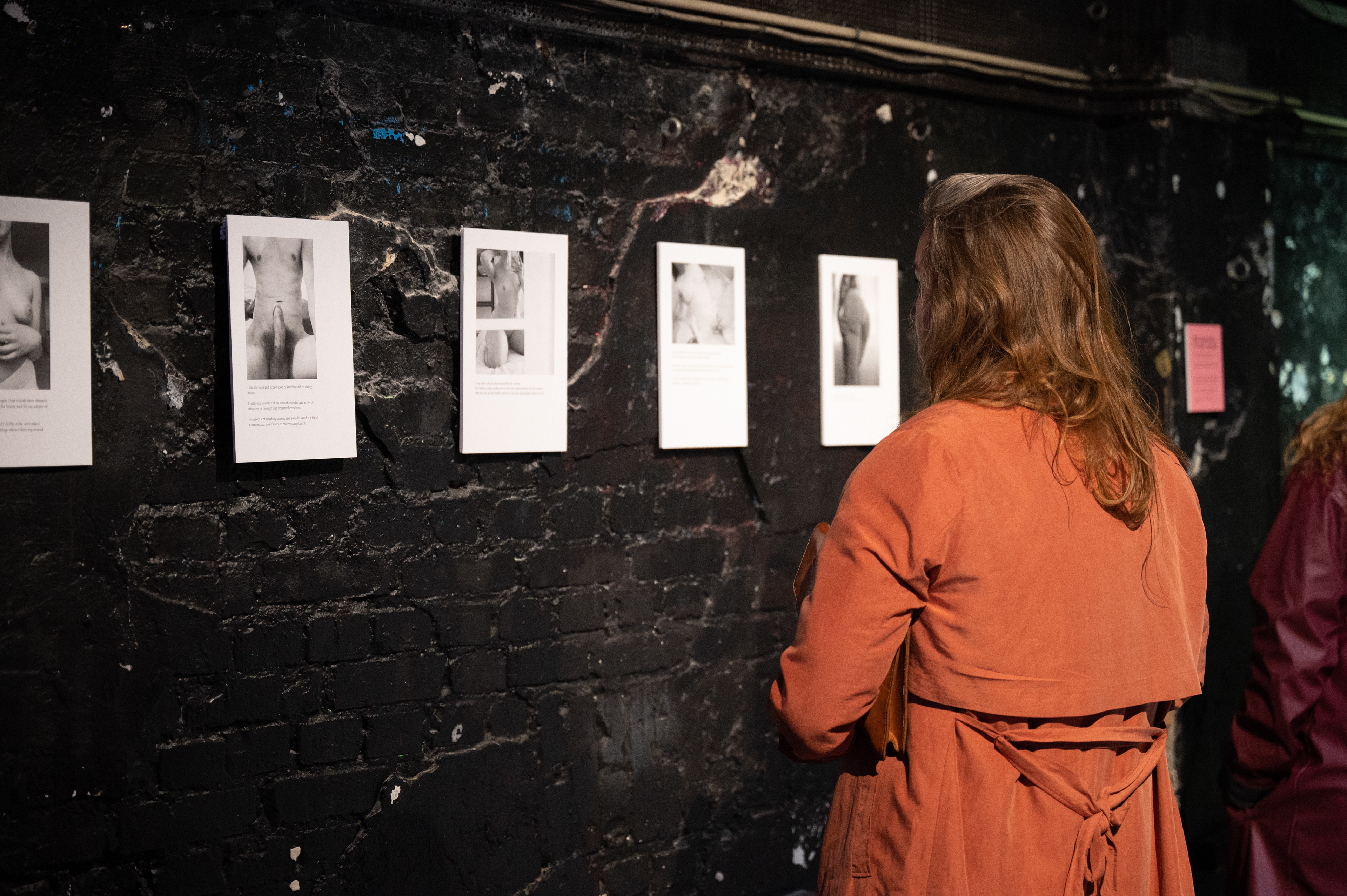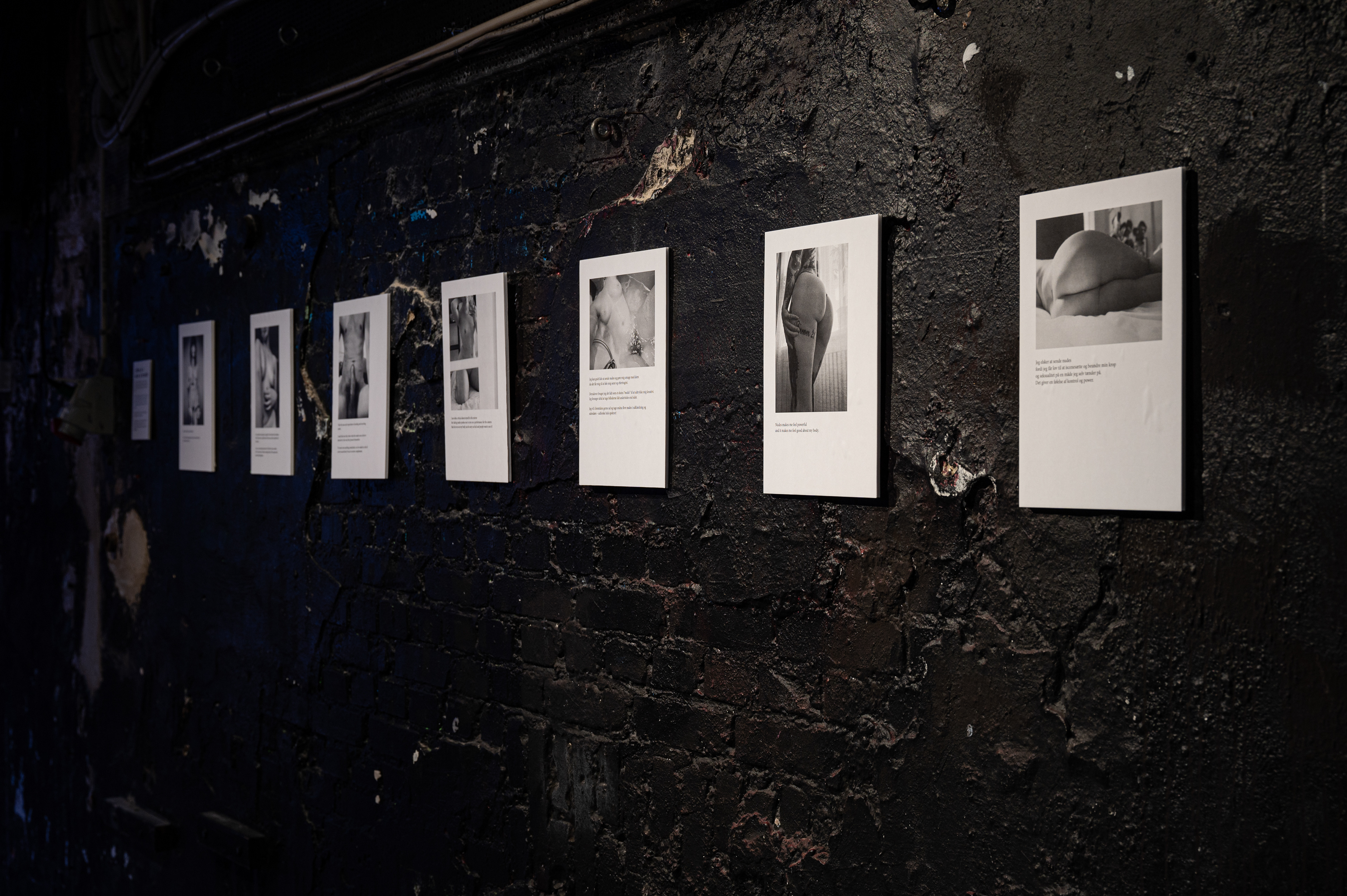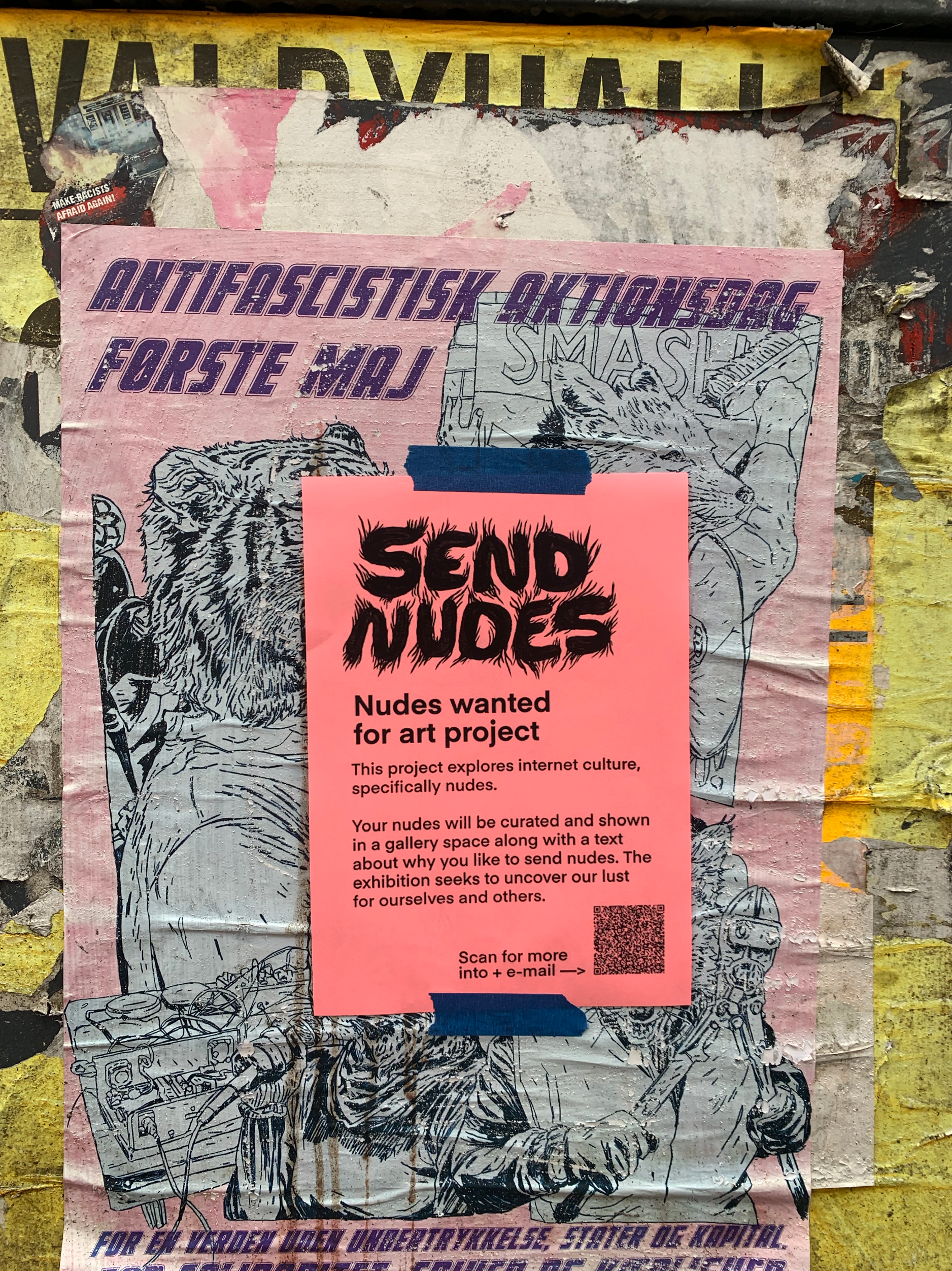 This piece invites you to let go of something that's been holding you down.
Surrendering your will, letting go of grievances and letting go of wanting things to be a certain way in order for you to be happy – is one of the greatest gateways to happiness.
This piece invites you to let go, forgive someone (or yourself) – surrender your will and excist in oneness.
Grab the pen - put your greivences on paper
and drop it in the magic cat.